Raate Road was the scene of two decisive Winter War battles. The mission of the Soviet troops attacking Suomussalmi was to cut Finland in half at its narrowest point and to sever Finland's land links to Sweden. Finnish soldiers achieved a major defensive victory in the battles of Suomussalmi and Raate Road and earlier in the village and further north in the Juntusranta direction and captured an enormous amount of various war spoils. Foreign war correspondents circulated photos and information about the battles, which were described as icy hell, around the world.
The monuments along Raate Road pay tribute to the memory of the destroyed Ukrainian 44th Division and deceased Finnish war heroes and fighters. According to various estimates, around 5,000 unrecovered Soviet bodies lie buried along Raate Road and in the surrounding wilderness, reminding us of the terrors of war and also of the relentless will of a small nation to defend itself. Raate Road is about 18 kilometres long and ends at frontier barriers.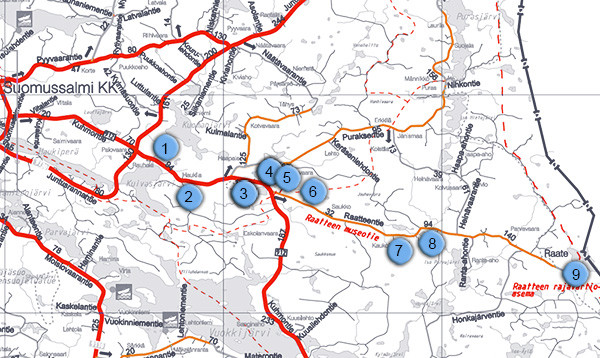 (Maanmittauslaitos Julkaisulupa nro 529/MML/10)
1. Kuomanjoki Memorial
The memorial to two brothers in arms from Mänttä can be found along Raate Road some 8 km from Raatteen Portti towards Suomussalmi village.

2. Ukrainian Memorial
Located along Kuhmon tie road in Haukila, where Finns halted the main troops of the Soviet Ukraine 44th Division at Christmas 1939. In early January, the Finns attacked the aggressor's troops in the area by entrenching them and by 8 January had wiped them out almost to the last man.
The upper part of the memorial "Ukraine prays for the souls of the fallen" is made out of grey granite in the form of a rock covered in ice symbolising the harshness of the Finnish climate. The rock has a recess and an arched vault decorated with Ukrainian (Zhitomyr) ornamentation and resembles a village chapel. The text running around the vault reads "The swords are beaten into ploughshares. Nation shall not lift up sword against nation". The pale figure of the Protection of the Mother of God appears in the recess. The Mother of God is holding a cloth decorated with viburnum flowers symbolising Ukraine and which she spreads over the ground sown with the graves of Finns and Soviets and prays for the peace and rest of the fallen. The pedestal has the words "Ukraine prays for the souls of the fallen" in Finnish and Ukrainian. The memorial was designed by Ukrainian sculptor Vitaliy Rozhik and was erected by Ukrainians on 30 August 2009.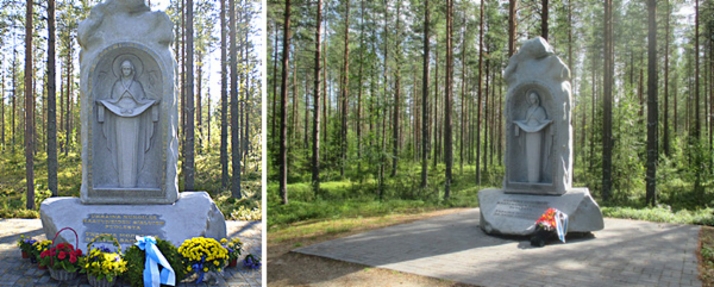 3. Majatalo Karhun Pesä
Room 1
Room 1: sleeps 4, use of kitchen and washing facilities
Price: €80 / night, bed linen €10 / person
Room 2
Sleeps 6+2 (room for extra beds), use of kitchen and washing facilities
Price: €80 / night, bed linen €10 / person
Upstairs:
Price: €60 / night, bed linen €10 / person
Read more about Majatalo Karhun Pesä >>