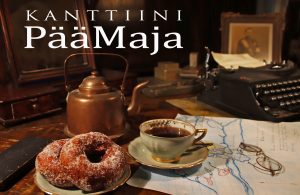 The smell greets you at the door. If all the doughnuts made at Raatteen Portti were piled up together, there would be quite a mouth-watering mountain since doughnuts have been made in this very same place since 1992. Fresh, tasty hand-made doughnuts are a temptation not to be resisted.
Many are the travellers who have sampled these doughnuts and some have also found them to be the best in Finland. Winter is long for those waiting for our doors to open to once again sample our freshly made pastries. Some people might even suffer slight withdrawal symptoms during the cold, dark winter, but once spring arrives joy is in the air as Lottakanttiini pastry cooks get their hands into the flour.
For such delicacies, the recipe is a simple one. Just water, yeast, flour, cardamom, salt, sugar and margarine. The inimitable magic touch is in the fingertips of the pastry cooks. These renowned Lottakanttiini doughnuts are made with love!
Kanttiini Päämaja is a great place for the visitor to take a break and enjoy freshly-made coffee and mouth-watering cakes and savouries baked on the premises.
The interior design of the café reflects the ambience of by-gone years and is a place where visitors can leave military history behind them and relax under lace lamps.
Bear watching and nature info point
Kanttiini Päämaja can provide you with information about bear watching trips and local guides. You can pay for bear trips at the café. Cash and cards accepted.
Souvenir shop
Pick up some inexpensive and unusual souvenirs from the café shop.