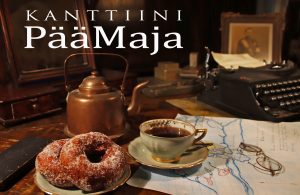 The smell greets you at the door. If all the doughnuts made at Raatteen Portti were piled up together, there would be quite a mouth-watering mountain since doughnuts have been made in this very same place since 1992. Fresh, tasty hand-made doughnuts are a temptation not to be resisted.
Kanttiini Päämaja is a great place for the visitor to take a break and enjoy freshly-made coffee and mouth-watering cakes and savouries baked on the premises.
MENUS FOUR GROUPS
1 portion includes bread, butter, drinks, coffee /tea.
Bus driver and travelling guide for free.
RAATE PEASOUP                                   10€
Traditional Winter war style soup, pan cake and jam, Gluten free, lactose free
SALMON SOUP                                     12€
Rich, creamy salmon soup made of local fish. Glutein free, low lactose
MEAT SOUP                                           12€
Delicious meaty soup using Portti`s own recipe. Glutein free, lactose free
MEATBALLS AND MASHED POTATOES  12€
Home-made meatballs and proper buttery mashed potatoes. low lactose
LAPLAND GAME SOUP                                    14€
Game saute` root vegetables and potatoes in a creamy stock. Glutein free, low lactose
GAME TEMPTATION                             14€
Creamy onion and potatoe casserole with sauteed` creme. Glutein free and low lactose
FIELD LUNCHES OUTDOOR CANTEEN " KENTTÄKANTTIINI"
Prices include bread with spread, non alcoholic drinks and coffee/tea
One menu/group, kindly notify us when ordering of any special dietary requirements.
Coach driver and tour leader free of charge. Half prices for children aged 5-12. Group
subject to a minimum of 20 persons.
Prices include 14% VAT