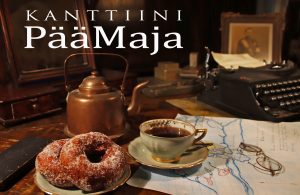 The smell greets you at the door. If all the doughnuts made at Raatteen Portti were piled up together, there would be quite a mouth-watering mountain since doughnuts have been made in this very same place since 1992. Fresh, tasty hand-made doughnuts are a temptation not to be resisted.
Kanttiini Päämaja is a great place for the visitor to take a break and enjoy freshly-made coffee and mouth-watering cakes and savouries baked on the premises.
PRE-ORDERABLE MENUS FOR GROUPS
Prices includes bread, spreads, beverages and coffee or tea.
RAATE PEA SOUP 14€
Traditional soup in Winter War style, pancake with jam (g,l)
SERGANT MAJORS SALMON SOUP 16€
Fresch fish and local potatoes in self-made creamy bouillon (g,ll)
TÖPINÄ ́S (company maintenance team) MEAT SOUP 16€
Meat soup prepared according Porttis traditionel reciept (g,l)
HEADQUARTERS ROAST 19€
Slowly in owen stewed beef, pork and root wegetables
serwed with local potatoes (g,l)
REGIMENTS GAME TEMPTATION 19€
Greamy sauteed game with onion and local potatoes (g,ll)
One menu/group. Kindly notify us no later than 7 days before when ordering
of any special dietary requirements. Coach driver and tour leader free of
charge. Group subject to a minimum of 20 persons. Prices incl vat 14%
g – glutein free
l – lactose free
ll – low lactose