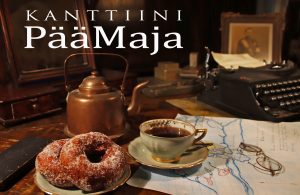 The smell greets you at the door. If all the doughnuts made at Raatteen Portti were piled up together, there would be quite a mouth-watering mountain since doughnuts have been made in this very same place since 1992. Fresh, tasty hand-made doughnuts are a temptation not to be resisted.
Kanttiini Päämaja is a great place for the visitor to take a break and enjoy freshly-made coffee and mouth-watering cakes and savouries baked on the premises.
Bear watching and nature info point
Kanttiini Päämaja can provide you with information about bear watching trips and local guides. You can pay for bear trips at the café. Cash and cards accepted.
Souvenir shop
Pick up some inexpensive and unusual souvenirs from the café shop.