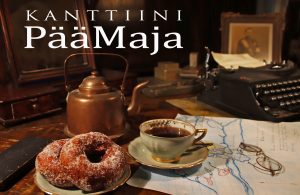 The smell greets you at the door. If all the doughnuts made at Raatteen Portti were piled up together, there would be quite a mouth-watering mountain since doughnuts have been made in this very same place since 1992. Fresh, tasty hand-made doughnuts are a temptation not to be resisted.
Kanttiini Päämaja is a great place for the visitor to take a break and enjoy freshly-made coffee and mouth-watering cakes and savouries baked on the premises.
MENUS FOUR GROUPS
1 portion includes bread, butter, drinks, coffee /tea.
Bus driver and travelling guide for free.
RAATE PEASOUP                                   10€
SALMON SOUP                                     12€
MEAT SOUP                                           12€
MEATBUNS AND MASHED POTATOES  12€
LAPLAND SOUP                                    14€
GAME /POTATOE PIE                             14€